"I love these magnifiers! I'd resisted trying something like this for my miniature painting for years, because I was worried it would mess with my depth perception. But after suffering from neck pain recently, and having these recommended to me, I decided to give them a go. I highly recommend it!"
⭐⭐⭐⭐⭐ - M. Scott
✅ Verified Buyer
Whether it's a miniature painting hobby, assembling jewelry, or simply wanting to see an object up close, the eyes alone are not enough for the task. Eye strain, headaches, and substandard work are consequences of overexerting the eyes trying to focus on tiny things. Magnifying glasses help, but poor adjustability, insufficient lighting, inferior lens quality, and too much weight exasperate the problem and are uncomfortable.
Magnifying Glasses a state-of-the-art seeing aid that helps with focus for the tiniest details. Fitted with 5 high-quality interchangeable lenses, magnification is easily adjusted to match needs so that the eyes can relax. As good vision is also dependent on good lighting, built-in LED lights illuminate the area in front of the eyes without adding weight to the glasses.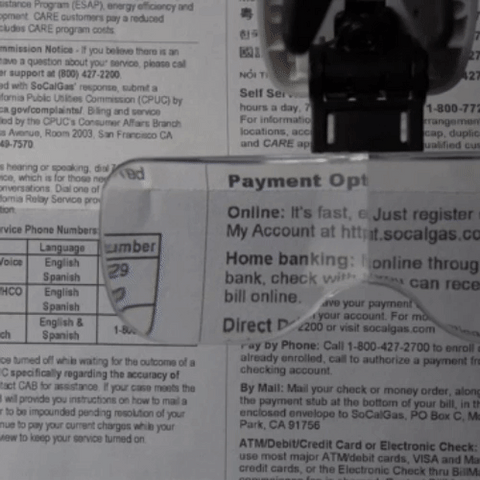 REASONS WHY OUR Magnifying Glasses WILL CHANGE YOUR LIFE:
✅ Multiple Magnification Levels: Magnifying Glasses comes with 5 easily exchangeable lenses so that you have control over the magnification level needed. Whether it's for something basic like reading, or as complicated as repairing a watch, there is a lens for every task.
✅ Adjustable Light Angle: The magnifying glasses has 2 built-in led lights that can be guided to illuminate specific areas of concern so you save time and effort.
✅ Light & Balanced: Magnifying Glasses is light enough to wear over many hours. It is comfortable, steady, and well-balanced so that you can do uninterrupted work.
✅ Convenient & Time-Saving: The magnifying glasses is attached to the head with a sturdy headband comfortable enough to keep on for hours. The lens can be swiveled up so you don't have to take off the headband when you need normal focus.
We understand how much strain miniature work puts on the eyes. The effort required to focus on tiny items can cause headaches and mistakes, which leads to frustration and time wasted. Magnifying glasses helps, but they can become heavy after a while and may not provide the level of focus needed for a project. Finding a tool with the right flexibility will make all the difference.
Thankfully, Magnifying Glasses is engineered for people who like working on small things. With its ingenious design, you can pick the magnification level needed for a task, place the glasses on your head, turn on the light, and you're ready. Now you have the durability to get lost in the miniature world for hours, with clarity and focus so that your work or hobby becomes enjoyable and comfortable.
PRODUCT SPECIFICATIONS:
Material: ABS
Magnification: 1X, 1.5X, 2X, 2.5X, 3.5X
New Improved rechargeable design!
PACKAGE CONTENTS:
(1) X Head Magnifier
(1) X Headband
(5) X Lens
(1) X Manual
(1) X USB Recharge Cable
A Hilltop Hawk Promise
At Hilltop Hawk, we believe in the quality of our products therefore we offer a 30 Day Money Back Guarantee with no questions asked! When you purchase from us, there is ZERO Risk for you!
Congratulations!
You've found a hidden discount code! Use code "TopSecret" at checkout to claim an additional 10% OFF your ENTIRE order!
Customer Support:
Phone: +1-(866) 475-4295